Google Analytics 4 is coming, are you ready?
What's new?
Google Analytics 4 (GA4), the next-gen version of Google Analytics, will replace Universal Analytics (UA) starting July 1, 2023. GA4 offers improved features, enhanced data privacy, and deeper customer behaviour insights. Get ready for the change and learn about the new features!
Data Collection
UA uses a traditional tracking code placed on a website, while GA4 uses a global site tag (gtag.js) and allows for tracking across multiple devices and platforms.
User-ID tracking
UA requires the implementation of a separate User-ID feature to track a user across multiple devices and sessions. GA4 has a built-in User-ID feature that allows for cross-device tracking.
Event tracking
UA uses a traditional event tracking model with different tracking codes for each event. GA4 has a more flexible event tracking model, allowing for auto-capturing common interactions such as page views and clicks.
Machine learning
GA4 uses machine learning to categorise events and generate insights automatically.
Privacy
GA4 has more robust privacy features, such as automatic IP anonymisation and the ability to control data-sharing settings.
Cross-device reporting
GA4 provides a unified view of user behaviour across devices and platforms. UA requires separate views and custom coding to achieve a similar level of cross-device reporting.
The Shift from UA to GA4
Universal Analytics has traditionally focused on tracking and measuring sessions and the events within each session. GA4 represents a significant shift in this approach, as it now prioritises tracking and measuring users and the events associated with each user. 
Due to this shift, in GA4, core metrics have changed from Users, Sessions and Session Duration to Users, Events and Engagement Time. Engagement Time, the equivalent of Bounce Rate, measures the total time users spend actively engaging with a page.
GA4's new data tracking model requires events to be tagged and implemented manually. Therefore, it is essential to be ready to set up GA4 correctly. For example, events previously tracked and automatically labelled as pageviews will now be shown as a generic event if not tagged and set up correctly. 
Create Studios can help you implement a comprehensive tracking plan to get GA4 to measure the essential things for your website and uncover meaningful insights to make informed decisions confidently.
Timeline
Now - Dual Tagging - If you haven't already, start dual tagging to send information to GA4 and build a historical record before the switchover.
Now - Data Validation - Make sure GA4 is collecting the data that is valuable and useful for your website.
Now - Reports & Dashboard - Understand and customise reports that will provide valuable insight for your business needs.
July 1, 2023 - UA Sunset - All standard Universal Analytics properties will stop processing new hits on July 1, 2023.
October 1, 2023 - UA360 Sunset - Universal Analytics 360 properties will receive an additional three months of new hit processing, ending on October 1, 2023.
Sunset +6 Months - Historical Data - You can access historical data for up to 6 months after sunset.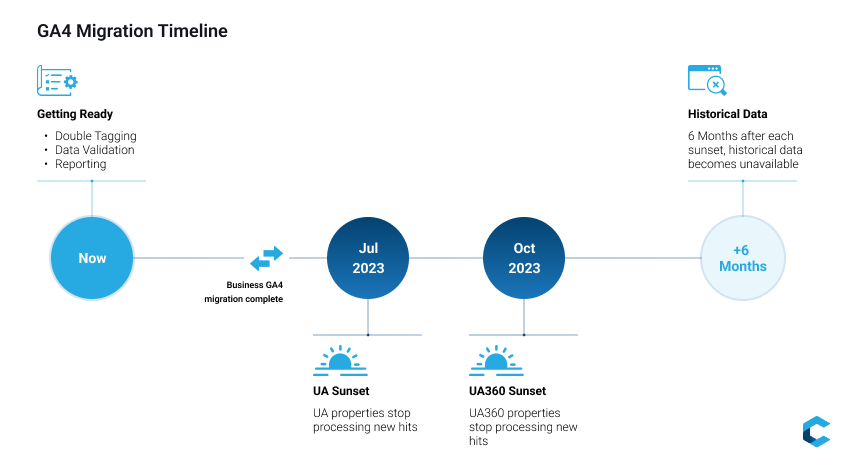 Get Ready
GA4 not only has new features but is, more importantly, a new approach to measurement, and as new features are released, your GA4 implementation also needs to stay up to date. 
Let Create Studios help you seamlessly transition to GA4 and utilise its full potential to deliver meaningful insights.